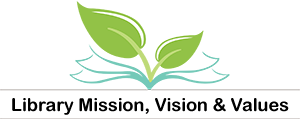 MISSION
Our mission reflects the commitment we are making to the community.
---
WE ENRICH LIVES AND BUILD COMMUNITY.
VISION
Our vision articulates what success will look like in the future.
---
A LIBRARY CARD IN EVERY HAND.
VALUES
Our values direct us in our service to the community and interaction with one another.
---
SERVICE

Making our customers top priority and offering resources for and to everyone.

COMMUNITY

Providing opportunities for people to meet, exchange ideas, collaborate and engage in the life of their community.

RESPECT

Honoring diversity and individual perspectives.

INSPIRATION

Inviting the discovery of ideas and learning in all forms.
Our STRATEGIC PLAN set the course for our priorities and activities from 2015-2018.