Baby's First Library Card

Babies and toddlers from birth to 35 months of age can get a special FCPL Baby's First Library Card. It has all of the same features and privileges of the Library's standard children's library card.
Sign up for your FREE library card at any Library location with the signature of a parent or guardian and appropriate photo ID.


Why do we offer a Baby Library Card?
Babies are born ready to learn. Their brains are filled with neurons waiting to be turned on and stimulated. By singing, reading, and talking with young children, parents and caregivers are setting the stage for lifelong learning. The Library provides books, interactive programs and many other resources to help young children reach their potential.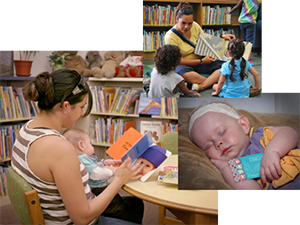 Introduce Your Baby to the Library
Learn More about Early Literacy Skills
Community Resources