Use of Library Computers and the Internet
---
The Fresno County Public Library offers free public access computers at each of its locations to meet the information needs of our users and to provide residents with opportunities for learning about information technology. Consistent with the Board of Supervisors Policy, federal and state law, all computers in all branches offer only filtered access to all Library customers of all ages. The Children's Internet Protection Act (CIPA) requires libraries such as the Fresno County Public Library and the other members of the San Joaquin Valley Library System which receive discounts on Internet connections and service to block or filter for all users, visual depictions that are obscene or child pornography, and to filter for minors depictions which are harmful to minors.
Internet filters are imperfect. They may block some constitutionally protected material, and they may fail to block some unlawful materials. A 2003 U.S. Supreme Court decision authorizes disabling the filter for lawful use by adults. Adults 18 years and older may request that Library staff disable the filter for lawful purposes as a specific workstation for a specific session of use. However, no access will be granted to sites rated by the filter as spyware, malware, adware or the like, because they have the potential to harm the Library's network and /or individual workstations and disrupt the Library's ability to provide service to its users. Phishing sites are blocked because of their deceptive collection of personal information. Please tell Library staff if you believe a site has been rated incorrectly.
The Library has no control over the quality or accuracy of information found on the Internet. Users should critically evaluate its content. Filters do not remove all potentially objectionable material found on the Internet. Parents and guardians are strongly encouraged to guide their children's use of the Internet. The Library recommends the following documents:
Use of the Library's computers for the transmission, dissemination, and/or duplication of information is regulated under various state and federal laws. The Library expects all users to comply with such laws.
Privacy
The Library is committed to protecting the privacy of its customers and staff as outlined in its Privacy Policy. In order to provide equitable access, the Library uses an electronic reservation system. This software does not track web site visits or record your computer activity. At public computes, all documents created, Internet search histories, temporary file, cache and certificates are purged upon the end of your computer session and/or with the daily rebooting of the PCs. The computer reservation history is deleted every day. While the Library takes measures to ensure the privacy of public computers users, it cannot guarantee that every task completed is private. Users are also urged to be cautious is accessing personal information on public computers. Users should be aware of their surroundings and sites they access to help avoid possible theft of information.
The Library does not monitor what any user views or reads over the Internet.
The Library assumes no responsibility and shall have no liability for any claims or damages which result from providing computer and Internet access to the public.
Computer and Internet Use Policy
Library computer users must indicate they agree with the Computer Use Policy and the Internet Use Policy in order to use a Library computer. Failure to comply with these policies will result in the revocation of computer use privileges. Agreement consists of clicking on the "accept" button when logging on to a computer.
Requirements
A valid San Joaquin Valley Library System library card
Short term visitors may request a guest pass.
Children under 5 may use computers when supervised by a parent or guardian. In locations with separate children's areas, use of computers in these areas may be limited to children 12 and under.
Reservations
Reservations are made through PC Reservation software at login stations at each library or over the phone. Library staff can assist you with making a reservation.
Users may only sign up for a reservation using their own card
Reservations may be made up to 1 day in advance
Persons using a computer for special tasks that may require extended time should speak with a staff member before making a reservation. Accommodations will depend on demand at the time and apply to that day only.
Time
To provide equal opportunity for all residents, the Library limits the total daily use by each person to a maximum of 2 hours. In locations where computer demand is very high, users may receive less than the 2 hour maximum.
All locations provide computers offering 30 minute sessions. Some locations may also offer 60 minute sessions and 15 minute express stations.
A user must log into to their assigned computer within 5 minutes of their reservation. If a user does not log in within this time, the reservation software will cancel your reservation and the computer will become available for another person.
If no one is waiting to use a computer, the reservation software may give you the option to extend your current session by 15 minutes.
Printing
Current published fees apply. (See Fines & Fees).
Use the print icon on the computer, choose black and white or color printing, press print. Proceed to the Print Station to pay for and print your materials.
General Rules for Computer Use
Library staff will provide basic assistance to computer users, but cannot provide in-depth or extended individual help. Ask about the Library's free classes.
Illegal activities, as well as any other activities that are intended to interfere with or disrupt other users, services or equipment are prohibited and may result in suspension of access to computers at all branches of the Fresno County Public Library.
If the nature of content being viewed on a Library computer disturbs other Library users, the viewer will be asked to cease, to use a privacy screen, or be moved to another computer.
Computers include USB ports for using flash drives. Users may bring their own flash drives or purchase a flash drive from the Library to save their files. The computers will NOT save onto the hard drive.
The Library assumes no responsibility for damage to users' personal computer equipment or data files resulting from downloads from the Internet.
Library users may not run their own personal software on Library computers.
Library users are responsible for any consequences of copyright infringement through their use of Library computers, and may not use Library computers for any unlawful purposes.
Computer users also agree to abide by the Library's Rules of Conduct.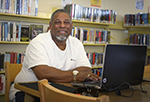 Check out a laptop for 2 hours to help with your job search.
Clovis
Fig Garden
Gillis
Kerman
Mendota
Orange Cove
Parlier
Politi
Reedley
You must be 13 or older and have a library card with fines below $10. Available on a first-come, first-serve basis.

Reviewed 9/30/16