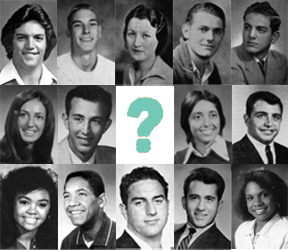 Guess Who? Contest 2011
Each week from July - September 2011, the Library featured photos of famous Fresnans selected from the California History and Genealogy Room's collection of more than 1,000 local school yearbooks. We invited people to guess the person of the week and a monthly grand prizewinner was selected from the correct answers.

Search for long-lost classmates yourself. The California History and Genealogy Room's local yearbook collection is open to the public every weekday. Check our Contact Information page for more information.

Congratulations to Vicki Russell, September's winner of the Guess Who? contest with a correct guess of Kevin Musso. She's uses the Fig Garden Branch Library and will receive a $15.00 Barnes & Noble gift certificate. (Applicants were sorted by correct guess on a weekly basis and then all the names for a 4-week period are pooled together and one name is drawn.)

Congratulations to Devin Noble, August's winner of the Guess Who? contest, who correctly identified Stefani Booroojian. He's a Clovis Branch Library user and will receive a $15.00 Barnes & Noble gift certificate.

July's winner of the Guess Who? contest was Remy Vea. She's a Woodward Park Library user and received a $15.00 Barnes & Noble gift certificate.




Kopi Sotiropulos (Fresno High, 1966, as Prokopios Sotiropulos) Kopi grew up in Fresno after moving to the U.S. from Greece. He started with KMPH-26 in the early 1970s then went to Hollywood for 10 years and pursued acting. He returned to Fresno and KMPH in 1992 as the 10 O'clock News weatherman, and has in recent years been the co-host of KMPH's GREAT DAY.

David Lewis (1963, Clovis High School). David led the NFL in punting in 1970 and 1971 while playing for the Cincinnati Bengals. He attended Stanford University and was drafted in the 5th round of the 1967 NFL Draft by the New York Giants.
Sharon Leal (Roosevelt High School, 1988). Graduate of Roosevelt School of Performing Arts and an alumni of the Good Company Players. She has appeared on Broadway as Mimi in Rent, in television on such shows as Guiding Light, Boston Public and Private Practice as well as in movies, in Tyler Perry's Why Did I Get Married? and its sequel.
Kevin Musso (Clovis High School, 1979). Meteorologist for ABC30 Action News, he is an alumnus of Fresno State and completed his meteorological studies at Mississippi State University. He has been awarded the seal of approval from both the American Meteorological Society and the National Weather Association. He was first heard on valley radio stations as "Moose in the Morning", a nickname given to him while playing high school football. He has been broadcasting in the valley for 25 years and the past 14 years forecasting for our Valley and Sierra.
Marvin Baxter (Fresno State, 1962). Associate justice of the California Supreme Court since 1991. A Fowler native, his undergraduate degree was in economics, and he earned a degree from San Francisco's Hastings College of the Law in 1966. Served earlier as a judge in California's Fifth District Court of Appeal.
Stefani Booroojian (Fresno High School, 1976). One of the most familiar faces in San Joaquin Valley broadcasting. Began at Fresno's KSEE-TV in 1982 and has been an anchor for over a quarter-century. Has won two Emmy awards during her career, along with a distinguished media service award from Fresno State.
Tom Flores (Sanger High School, 1954). First Latino quarterback and head coach in professional football history. Played with the Oakland Raiders, Buffalo Bills and Kansas City Chiefs (1960-1969), and later coached for the Raiders and Seattle Seahawks (1979-1994). Sanger High's football stadium is named in his honor.
Judy Case (Sanger High School, 1970). Elected to the Fresno County Board of Supervisors in 1998. Earlier served as council member and mayor of the City of Sanger. Earned a nursing degree at California State University, Fresno, and a graduate management degree from Northeastern University in Boston.
Mike Connors (1925 - ; graduated Fresno High School, 1943, as "Jae Ohanian"; real name Krekor Ohanian, also known as "Touch"). Best-known as the star of the CBS-TV series, "Mannix" (1967-1975), and also starred in "Tightrope" (CBS, 1959-1960) and "Today's FBI" (ABC, 1981-1982). Before achieving stardom, attended UCLA and played on its basketball team under legendary coach John Wooden.
Jon Hall (1915-1979; graduated Fresno High School, 1932; real name, Charles Felix Locher). Film actor whose primary credit is The Hurricane (1937), in which he starred opposite Dorothy Lamour. Interestingly, Hall was the nephew of James Norman Hall (1887-1951) who, with Charles Nordhoff (1887-1947) wrote the novel on which The Hurricane was based, and also Mutiny on the Bounty (1932).
Ginny Sims (1913-1994; graduated Fresno High School, 1931). Singer and actress, performed with Tony Martin and Woody Herman but best-known for her association with Kay Kyser's orchestra (1938-1941). Film credits include "Here We Go Again" with Edgar Bergen and Charlie McCarthy (1942), and "Night and Day" with Cary Grant and Alexis Smith (1946).
Kevin Federline (Clovis West High School, 1994; attended freshman year only, later obtained GED). Has acted (Las Vegas, One Tree Hill), been a male model for Blue Marlin, a commercial spokesman, danced and rapped, but is best-known as the former husband of Britney Spears (2004-2006).
Audra McDonald (Roosevelt High School, 1988). Four-time Tony award winner, two-time Grammy award winner. Got her start in entertainment via Roger Rocka's Good Company Players. Headline in "Ragtime" and "A Raisin in the Sun" on Broadway. Currently stars as Dr. Naomi Bennett in the ABC-TV drama, "Private Practice."