---
We are looking for people willing to share their stories about the Fresno Veteran's Day Parade. Whether you attend, participate, organize, or even if you have stopped attending—we'd love to hear from you. Stories will be presented in print and video form as part of our Community Stories project. Video interviews and written materials will be displayed starting July 2014 in selected Library locations and online via Library and community partners' websites. Additionally, screenings of the final video will take place at various locations in Fresno County. Your contributions will ultimately be made available to the general public through a grant funded by Cal Humanities (www.calhumanities.org).
How you can help
Let us interview you on camera.
Submit your story online, using the form below.
Submit your own home movies of the Fresno Veteran's Day Parade. We can use any format (Super 8, 8 mm, 16mm, VHS, etc.). We would like to borrow your videos to digitize the footage; original format would be returned within six months.
Please answer a few questions so we know how to contact you. Questions? Call Nance Espinosa at (559) 600-6269 or email her at nance.espinosa@fresnolibrary.org.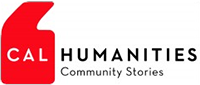 ---
This project was made possible with the support from Cal Humanities, an independent non-profit state partner of the National Endowment for the Humanities. For more information, visit www.calhum.org Any views, findings, conclusions, or recommendations expressed in this website do not necessarily represent those of the Cal Humanities or the National Endowment for the Humanities.